The Roanjora Affix is owned by Ray, Debbie and Roxanne McDonald, and although not named on the affix we must not forget Joe who, more recently has had to spend his time working rather than attending shows, still plays an important role in the lives of the dogs.
We are based in Hertfordshire and have owned Red and Whites since 1995. Over the years we have owned some beautiful Irish Red and White Setters but have only bred three litters, our first in 1998 and due to unforeseen circumstances our second was not until 11 years later in 2009 with our third in 2012.
Roxanne and Joe have achieved some high places in junior and adult handling. Ray has had some great achievements in adult handling including Reserve Best Adult Handler in 2006, followed by Best Adult Handler in 2007 at the Coventry Ladies Kennel Society's Adult Handling Finals.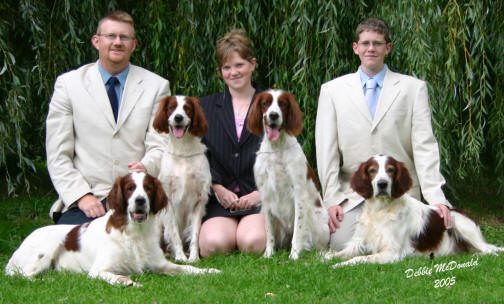 Roanjora Handling team!
l-r - Ray (Handler) Roxanne (Groomer/Handler) Joe (Handler)

Corranroo Capriccio for Roanjora, Spyfire Flamenco for Roanjora
Roanjora Corbiere, Glennessa Handsome Does with Liric